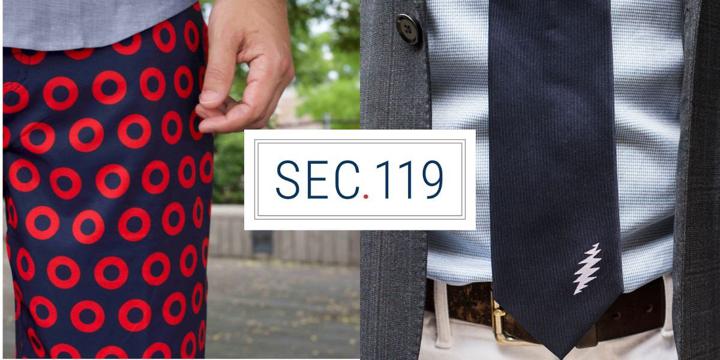 We found Audiohook as an easy way to tap into multiple audio channels at once without having to bid directly within each platform. With companies like Pandora and Spotify showing record growth, we knew that these audio-first platforms were an opportunity to tell our story. Sec. 119 was built to celebrate our favorite bands through quality apparel, so if there's one thing our customer is doing regularly, it's listening to music. In a year like 2020, without live music, Audiohook was helpful in integrating us into a medium where our customers are now spending the most time.
 - Logan Brown, Head of Marketing
Sec.119 creates sophisticated yet trendy clothing for men. They have funky stand-out designs. Sec.119 is such a creative and eccentric brand, they required an ad to match their style. Digital audio advertising is a great way to market when a distinctive ad is needed. Digital audio can produce a creative ad in a fast and proficient manner. There are various ways to generate a clever ad with audio advertising.
There are multiple ways an ad can be original between the music choices, the script, and the tone/personality of the ad. Brands can have a clinical tone, humorous, or high-energy; anything fitting to the brand. Audiohook's music choices are vast, but not limited to what is offered. Most importantly, Audiohook prides themselves in airing an elaborate and thorough ad.
Sec.119 and Audiohook were more than pleased with the final product. Their ad did so well, they overshot their ROAS goal by quite a lot. Sec.119 grew their brand and received return customers swiftly. Digital audio advertising helped Sec.119 greatly and they plan on working with digital audio again in the future. Audiohook uses extensive streaming platforms.
Results:
Sec.119 finished with 9.41x ROAS.
Learn how Audiohook can help your brand today!