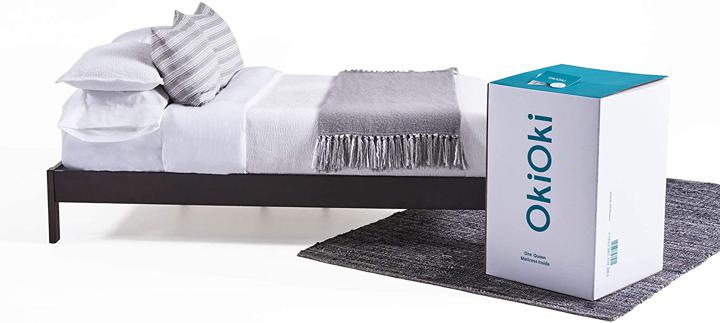 From script writing, to targeting, to reporting, Audiohook's expertise has made getting started with audio advertising a walk in the park. Just a few days after launching we saw an immediate bump in-store sessions and a very impressive ROAS. The team at Audiohook was also kind enough to provide us with a conversion lift analysis - showing us exactly how much of an impact these ads played in the customer journey while the campaign was running. As a brand that's never explored audio advertising before, we were super impressed with how audio complemented our media mix and gave our new-to-brand customers that extra lift they needed.
-Nic Politi, Marketing Specialist
OkiOki is a mattress brand who designs products to mimic competitor's, but at a much lower price. They have designed multiple mattresses to fit everyone's needs. OkiOki noticed how other mattress brands were marketing and knew they needed to do something different in order to stand out. Other mattress brands lean towards media marketing.
A large con with media marketing is how time-consuming it is. Not only does media marketing need timely responses, and strategies to keep audiences engaged to accrue likes, it also requires research to understand and execute these strategies. Digital audio marketing is simple and easily executed. There is no need for responses on comments, or coming up with a unique daily post. OkiOki chose digital audio advertising, because it is fast-moving, personalized and straight-forward.
When OkiOki talked with Audiohook it was apparent digital audio would meet all of their goals in trying to build their brand and gain an audience with it's personalization. Audiohook was able to give OkiOki its user engagement data, and listener results quickly. Audiohook uses many streaming platforms like SoundCloud, Pandora, Spotify, and more.
Results:
OkiOki finished with 14x ROAS.
Their ad resulted in over 8,200 unique listeners.
They had a 42% conversion lift.
Find out how Audiohook can help your brand today!