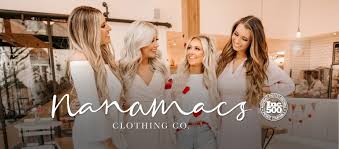 Audiohook came to us at the perfect time when we were searching for new and unique advertising platforms to increase our brand awareness. Audiohook provided us exactly what we were looking for with multiple placements options, accurate audience targeting including custom triggers, an easy setup process, and excellent customer support.
- Kristina Brown, Vice President Of Marketing
Nana Macs is a clothing brand that prides themselves in providing unique, flattering, and trendy apparel. Nana Macs partnered with Audiohook in order to further their brand growth. They needed an ad that matched their brand, and decided digital audio advertising would meet their needs. Nana Macs realized audio advertising is more personalized than other forms of marketing.
Digital audio allows brands feel confident about airing a perfected ad. The personalization of audio advertising is easily done including everything from the script, background music, and trigger choices. Digital audio advertising narrows your audience for you with detailed targeting. Online targeting isn't very precise, but digital audio is able to target the correct person each time.
Nana Macs realized their online advertising wasn't reaching as many consumers as digital audio is able to. Their brand growth was almost immediate once their personalized ad went live. Both Audiohook and Nana Macs were impressed with the results of their case study. Audiohook uses streaming platforms such as TuneIn, SoundCloud, Pandora, Spotify, and many more. This allows brands to reach as many potential and return customers as possible.
Results:
Find out how Audiohook can help your brand!