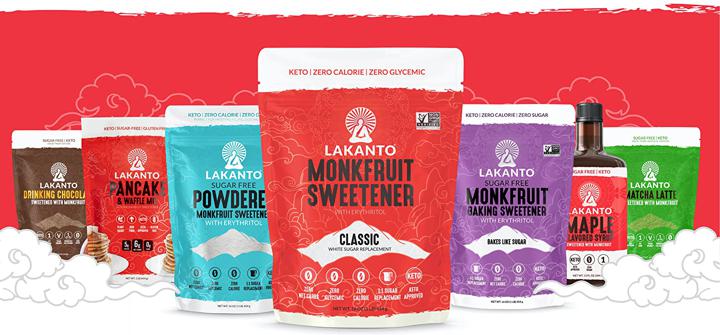 We were looking for new ways to reach consumers in places where they are spending their time. Audiohook provided us that opportunity within the podcast space. We were able to work with them to greatly expand our reach and drive additional sales to our website. And they did all of this profitably, driving $5 for every $1 we spent. We are very pleased with the additional reach we got and the amount of sales we were able to drive using Audiohook. 
-Rod Pettingill, Director of Marketing
Lakanto is a health brand who are experts in natural sweeteners. They use monk fruit as a sugar replacement in their keto friendly, and all-natural products. They have everything from muffin mixes, coffee syrups, to chocolate treats. Lakanto ran their ad with Audiohook at the perfect time – right around the New Year when everyone has set their resolutions. Lakanto recognized how powerful and useful digital audio advertising is. They decided to advertise on podcasts. 
Lakanto knew which type of streaming platform would be the most effective for them. Podcasts are an ever-growing platform. Over 104 million American listen to podcasts each month, and 68 million listen weekly. Those numbers create an enormous chance of being heard. The benefit of audio advertising on podcasts is how easy it is to find your audience, due to the type of content they are listening to. Lakanto saw spectacular results from their case study using the podcast space. 
When Lakanto and Audiohook first got together to set up their case study they were looking for a better and new way to reach their audience.  Not only were they were able to increase their reach, but also website visits, and website sessions thanks to their digital audio ad. Audiohook advertises on podcasts, large streaming platforms and the radio.
Results:
37,127 Completed ads on a $495 budget

13,764 unique listeners

4.72 ROAS

5,227 Website Sessions

Avg 111 website visits per day
Learn how Audiohook can help your brand!