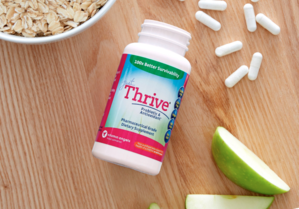 Audiohook reached out to us with an offer we couldn't refuse and allowed us to expand into an untapped channel leading into Q4, which was the perfect time! We were able to reach new audiences, build our retargeting pools, and establish a new marketing outlet that complimented our marketing mix perfectly. We learned a lot about this channel and how to seamlessly integrate it to our multi channel approach. Thanks! 
-Jenny, Marketing Lead
Just Thrive is a probiotic and vitamin brand. They have strong values of giving back and encouraging healthy lifestyles all around the world. If there is one thing all of us could benefit from are vitamins, so Just Thrive wanted to reach as many consumers as possible so they could spread the news of their brand. Just Thrive was focused on growing their audience.
For many brands it is hard obtain a new audience without digital audio, it takes time, research, and most of all setting a strategy. Audio ads are simple and effortless to put together with Audiohook. Audiohook does most of the work from script writing, voice talents, edits, and importantly streaming an ad. With audio advertising there is a higher chance to gain an audience because it works the strategy for you. Digital audio tracks what listeners are interested in and air the ad to those who fit the brand.
Just Thrive was able to see results quickly. They saw a significant growth in their audience, and ultimately purchases, leading into return customers. When Audiohook sat down to review the results with Just Thrive, both were interested in seeing where Just Thrive's market was largest. Audiohook provides information from ROAS to fully listened ads. Audiohook plays ads on many streaming platforms.
Results:
ROAS = 7

33k impressions

4,200 unique listeners
Learn how Audiohook can help your brand today!