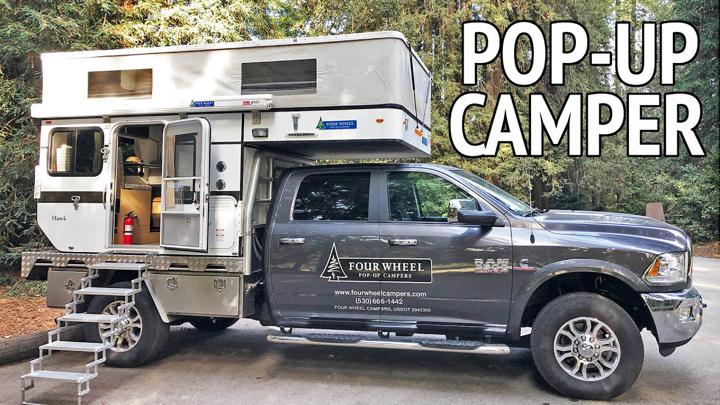 Four Wheel Campers worked with Audiohook on a campaign from Dec 2020 to Jan 2021. It was our first promotion via a radio platform.The results were positive and we are engaging in another campaign to learn more and assess if we will include consistently as part of our promotional mix.
-Dan Welty, Vice President
Four Wheel Campers at the root is a camping brand; they offer campers for your truck. The campers can fit almost every truck size – full, mid, and flatbed trucks. The campers can be customized and fitted specifically to your vehicle, also. Since Four Wheel Campers is an exciting and adventurous brand, they felt their other marketing tactics lacked the excitement they wanted to portray. Luckily, digital audio advertising allows more room for creativity than a digital ecosystem. The creativity stems from the ad script itself, the tone and personality of the ad, and the option of a music overlay. 
Other advertising strategies usually have some sort of restriction whether it be the limit on the amount of photos allowed in a post, or a generic template/layout. It's hard to be eye-catching and attention grabbing amongst the large amount of similar ads on social media. With audio advertising there is no template or limit on products advertised as long as it fits in 30 seconds. The tone of the ad can make a huge difference. Four Wheel Campers chose a voice artist with a rugged, yet upbeat tone to match their audience. This grabbed the attention of their audience, plus many new customers. 
Both Audiohook and Four Wheel Campers were knowledgeable about the listeners they wanted to reach and what their interests were. Finding their growing audience was fairly easy with digital audio. At the end of their month long case study, Four Wheel Campers gained a lot of brand recognition. They had massive amounts of new listeners reached, and fully listened to ads. Their budget was relatively low and still received stellar results from their ads. Four Wheel Campers has since then decided to keep Audiohook in their marketing rotation. Audiohook advertises on many streaming platforms like Pandora, Spotify, TuneIn, and more.
Results:
Four Wheel Campers wanted to see $0.50 cost per website session and finished the case study with $0.09.
Their ad was played 71,430 times
25,541 people were reached
They had 11,225 attributed website sessions on a $1k budget.
Learn how Audiohook can help your brand!